Jakarta - The fuss about the scarcity of a key ingredient of soy tempeh-making in the country, was also to affect to some internet sites in Brazil. You know why?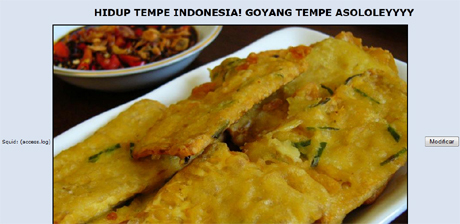 This occurs after the action is done hacking cyber criminals to sites owned by the State's Samba. Where the action actors insert pictures of Indonesian tempe as food.
"HIDUP TEMPE INDONESIA! GOYANG TEMPE ASOLOLEYYYY"
"LIVING TEMPE INDONESIA! Rocking ASOLOLEYYYY TEMPE," the message left by the perpetrator who did not mention the initials of his identity.
Based on reports received, there are three sites that Brazil became the arena for fun players. Namely http://www.wideti.com.br, http://lan.kidnet.com.br, and http://www.iepro.org.br.
Deface the action performed is not performed on the front page, but only in one of these sites.
Confused about soy that is the primary manufacture of tempeh before, they could attract local hacking action for the site mengisengi Ministry of Agriculture of the Republic of Indonesia.
On the website address at www.deptan.go.id it, the perpetrators left a message whose content is related to various government insinuated that food should be provided through imports.
"
Pak, negara ini ahli pertaniannya banyak. Profesor di universitas-universitas dan juga ipb kan banyak. Presidennya juga doktor lulusan IPB, mbok ya apa-apa jangan impor. Masak Kedelai, Singkong, Buah-buahan, Beras, sampe Garam aja milih impor. Ganti aja nama departemennya jadi kementerian impor Republik Indonesia. Apa udah tinggal masa balik modal??..
".
"
Sial bener jadi rakyat, kemarin lombok dimahalin, manut. apa-apa dimahalin manut juga.. andalannya cuma tahu tempe.. eh susah juga.. apes-apes.. makan apa ya??
,"
"Sir, this country many agricultural experts. Professor at the universities and also a lot of ipb. President is also a doctoral graduate of IPB, mbok ya do not import anything. Cook soybeans, cassava, fruits, rice, salt until aja choose import . Change wrote the name of the department so the ministry of the Republic of Indonesia imports. What is already living the return on investment? .. ".
"Damn right so people, yesterday raised cabay, obedient. Nothing obedient also raised its flagship .. just know .. eh tempe .. definitely not too difficult, definitely yes .. eating what?"